26 July 2021
Abi Hardiman
Bring Colour to your Affordable Bathroom
Do you reside in your bathroom for hours on end or keep your cleansing rituals short and sweet? Whatever the answer, your bathroom should be just right for you. From positively vibrant schemes to soothingly dark designs, or something in between, colour remains an effortless way to personalise your setting. Prepare to be inspired by our favourite affordable bathroom schemes and get creative with trending bathroom colours...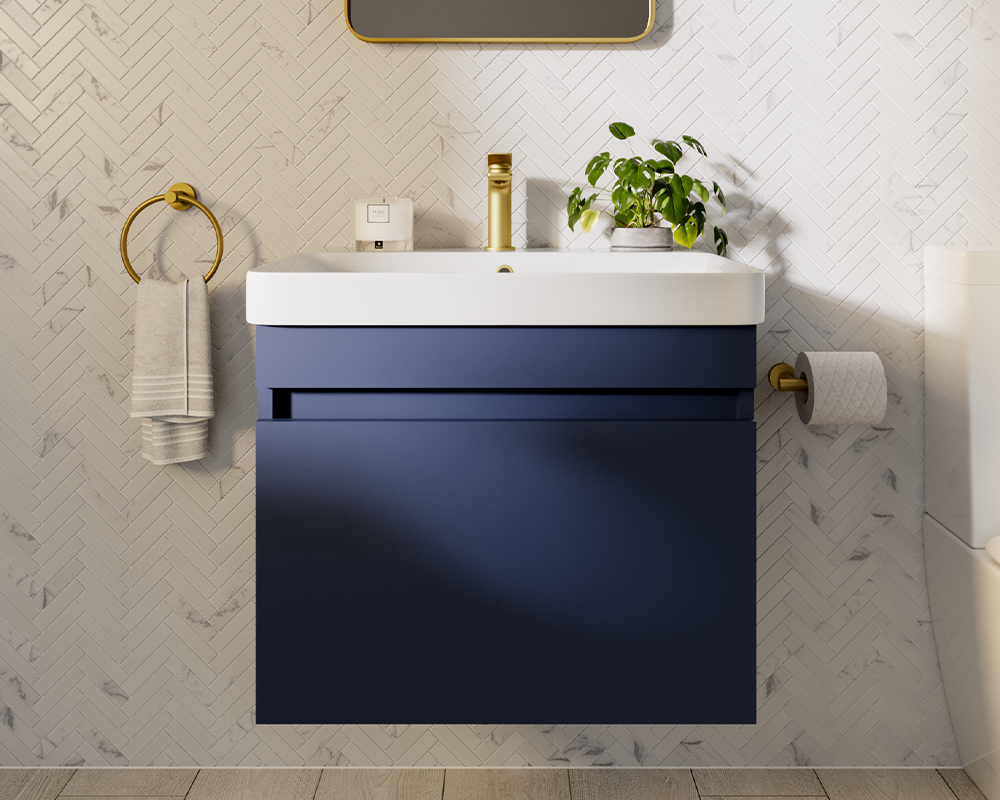 The Wellbeing Ambassador
Looking to welcome wellness into your home? You'll love this creative space!
Pairing soothing herringbone tiling with Greenwich brassware in Brushed Brass finish, this scheme captures subtle modern elegance – but it doesn't stop there.
Bringing splashes of colour to enliven the setting, including the stylish and practical Dalston furniture unit in Matt Blue alongside extra hints of greenery, this space is not only a beautiful focal point, but perfect for all cleansing rituals. Captivating and ultra-modern, this affordable bathroom captures a timeless scheme for years to come.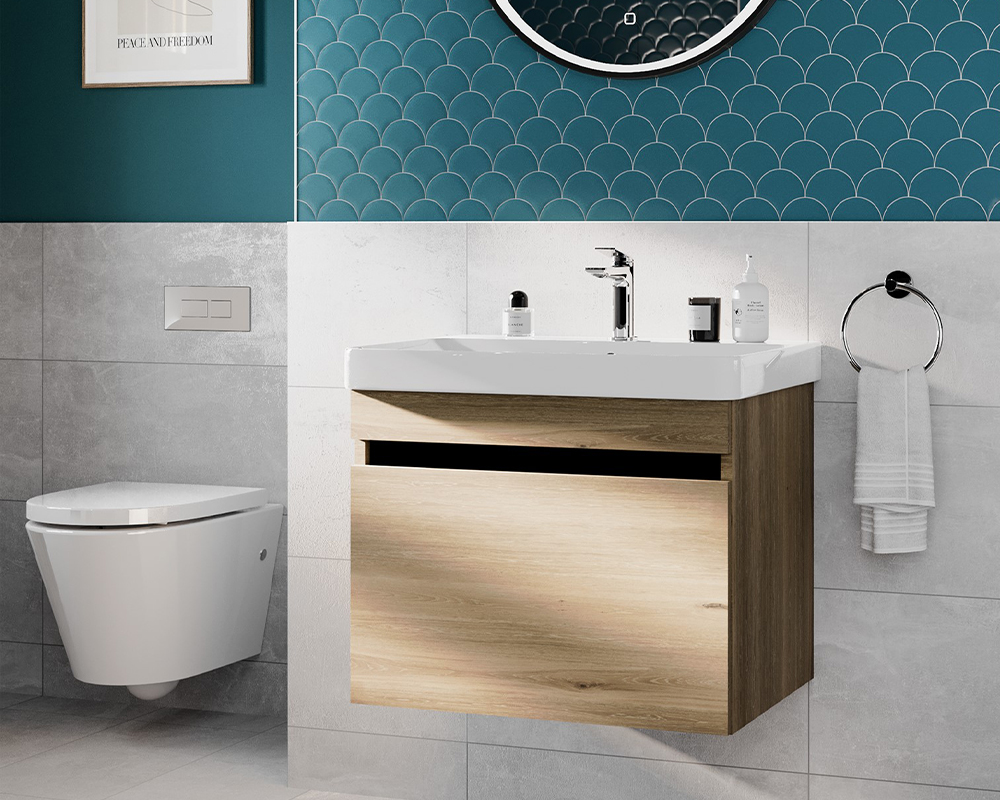 The Charming All-Rounder
Seeking a glamorous and affordable bathroom design? This budget-friendly scheme promises extravagance to soothe the senses.
Combining warm lighting with marble effect tiles and Dalston furniture unit in Golden Oak, this scheme encourages comfort and contentment with nature-inspired elements. With ample storage space for toiletries, the Dalston furniture unit brings a stylish wall hung design to maximise floor space, giving the illusion of a larger bathroom to prompt undivided relaxation.
A beautiful and practical wellness space that incorporates on trend bathroom colours, this affordable bathroom provides the perfect space to begin your morning and end your day.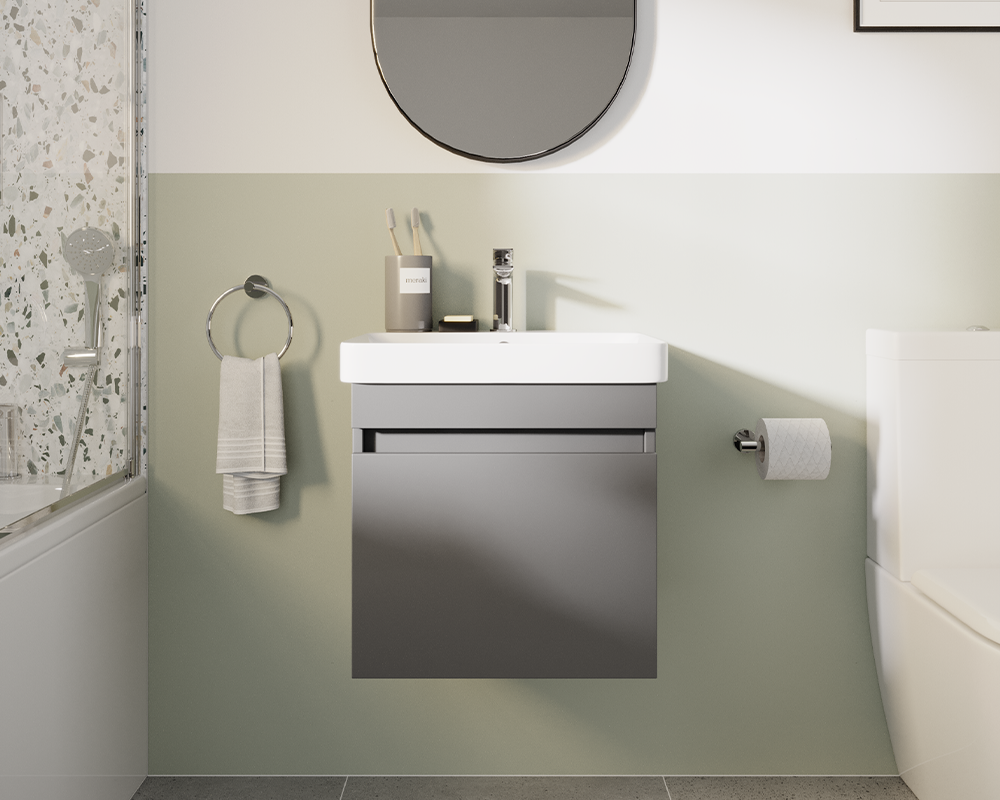 The Naturally Restorative
Could this possibly be the prettiest contemporary bathroom design idea you've ever seen?
With the clever use of terrazzo to distinguish the bath from the rest of the bathroom, this space utilises a natural colour palette to create a bathroom that appears larger and inviting. Looking for an impressive focal point? Providing a stark contrast to the refreshing green backdrop, the Matt Grey of the Dalston furniture unit brings a calming tone to the bathroom to capture an overall design that both soothes and awakens.
Finished with Greenwich brassware in Chrome for enhanced sophistication, the beauty of this affordable bathroom scheme refuses to go unnoticed - making it one of our favourite contemporary bathroom ideas for small bathrooms!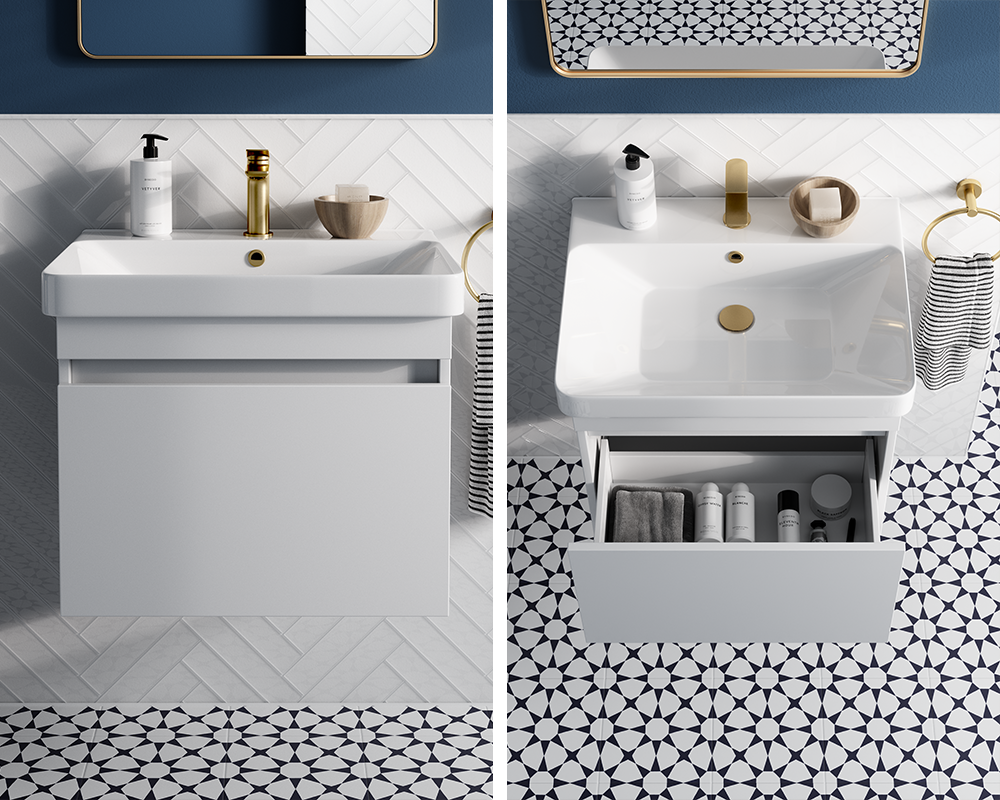 The Statement of Luxury
Want a setting that showcases luxury? Look no further than this indulgent and affordable bathroom scheme!
Love herringbone tiling? Why not combine herringbone tiles with a Dalston furniture unit in Matt White and patterned floor tiles for a striking bathroom contrast? Pairing different shapes and colours, this bathroom scheme captures an extravagant look with a personal touch.
Completed with Greenwich brassware and Hoxton accessories in Brushed Brass, this space incorporates trending bathroom colours for a luxury contemporary bathroom design idea that is both stylish and comforting.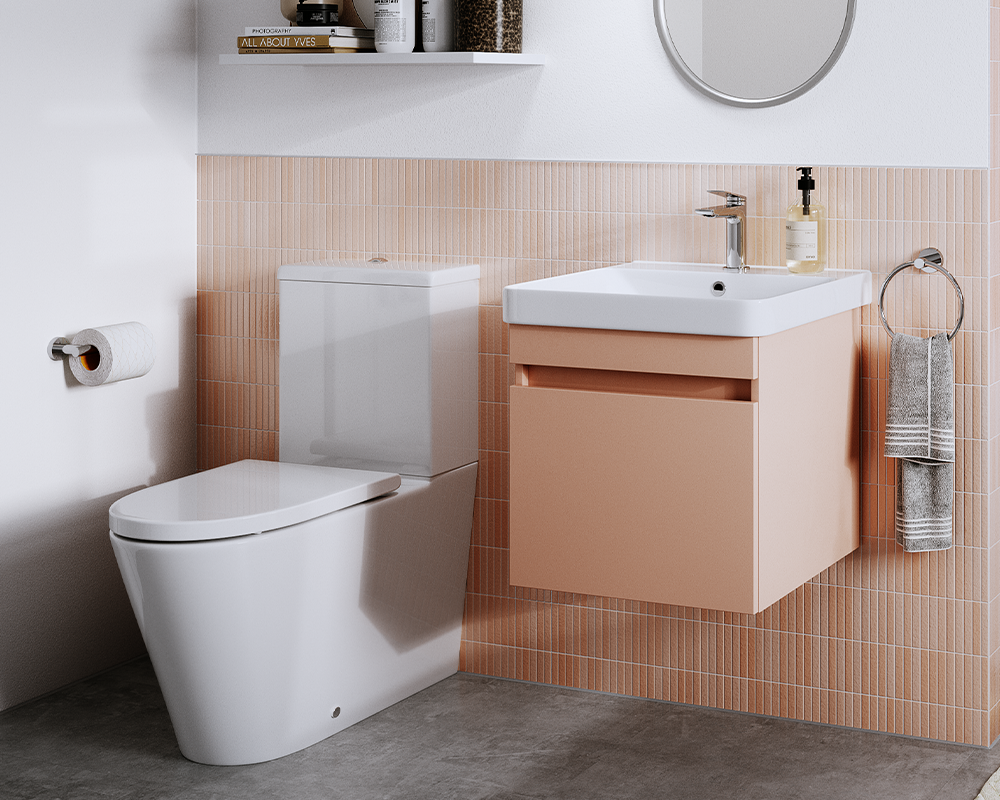 The Desirably Different
Impressively and unqiuely pink, this space really puts trending bathroom colours at the forefront of design to create an incredible place for cleansing rituals.
With a primary focus on blush pink tones, the invigorating Matt Pink of the Dalston furniture unit makes for the perfect centerpiece to tie this modern scheme together. Combined with EcoSquare showering bath for increased floor space, this bathroom effortlessly blends practicality with modern style for a flawless contemporary bathroom idea for small bathrooms and family bathrooms alike.
Finished with Greenwich and Hoxton brassware in subtle Chrome, this scheme merges luxury with trending bathroom colours for an altogether showstopping affordable bathroom.