Create A Bathroom Design That Cleanses Body, Soul and Mind

Many of us dream of a calm, meditative routine for life. But when do we have the time? With our increasingly busy lives, some days the only quiet time we get is in the bathroom. So why not make it a truly healing and rejuvenating experience. And all it takes is a splash of the right colour to fit your personality and the type of energy you need to feel your best.
Whether your shower time consists of thinking up your next big idea, weighing up important decisions, or pure mindful bliss, enhance your experience through your environment. Colour is more than simply aesthetic. It communicates, heals and evokes emotion. The colours of our surroundings can go as far as to raise or lower our blood pressure, influence our appetite, and change our way of thinking. That's why it's so important to furnish our abode with colours and styles that speak to us.
Discover what different colours can do for your mind, body and soul, and how you can bring this into your modern bathroom design.
Colour Psychology and Interior Design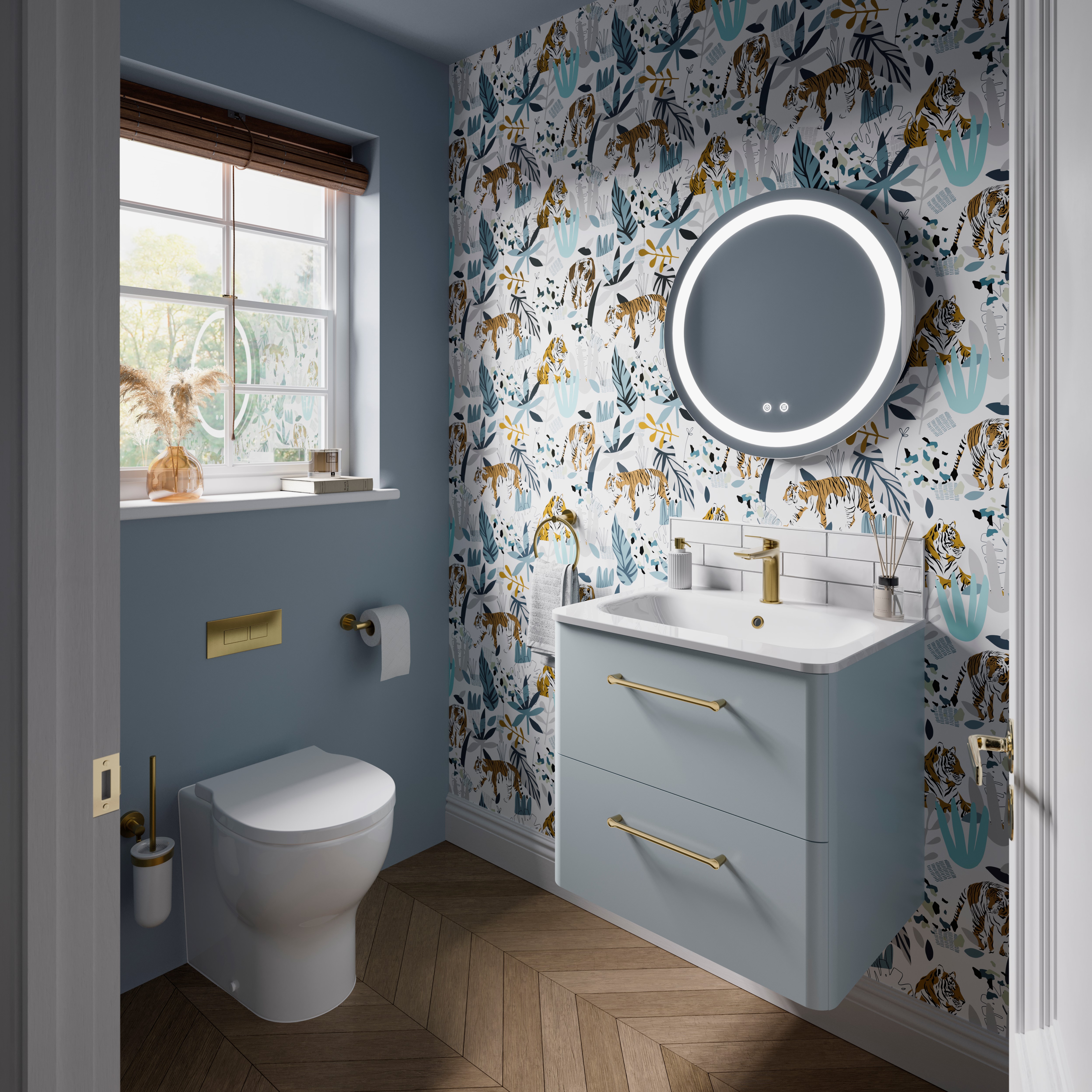 Pastel Blue: A Wave of Tranquillity 🌊

The calmness of a blue summer sky. The peace of a blue, gentle ocean. The blooming of bluebells in summer.
The colour blue signifies some of the most beautiful elements of nature and brings with it a sense of calm, peace and serenity. It stands for everything that is constant and unchanging.
Many people associate the colour blue with intelligence, confidence and dependability. So, if you want your mindful bathroom design to inspire you, strengthen your will and broaden your mind, then blue could be the colour for you. Lighter, pastel blues provide a further layer of soothing, calm and balanced energy.
Get the look: bring blue's calming properties into your home
Our Camberwell furniture in Dusty Blue begins to provide the tranquil, heartening experience for your modern bathroom design. When paired with other shades of blue and natural imagery, it creates an uplifting and peaceful environment.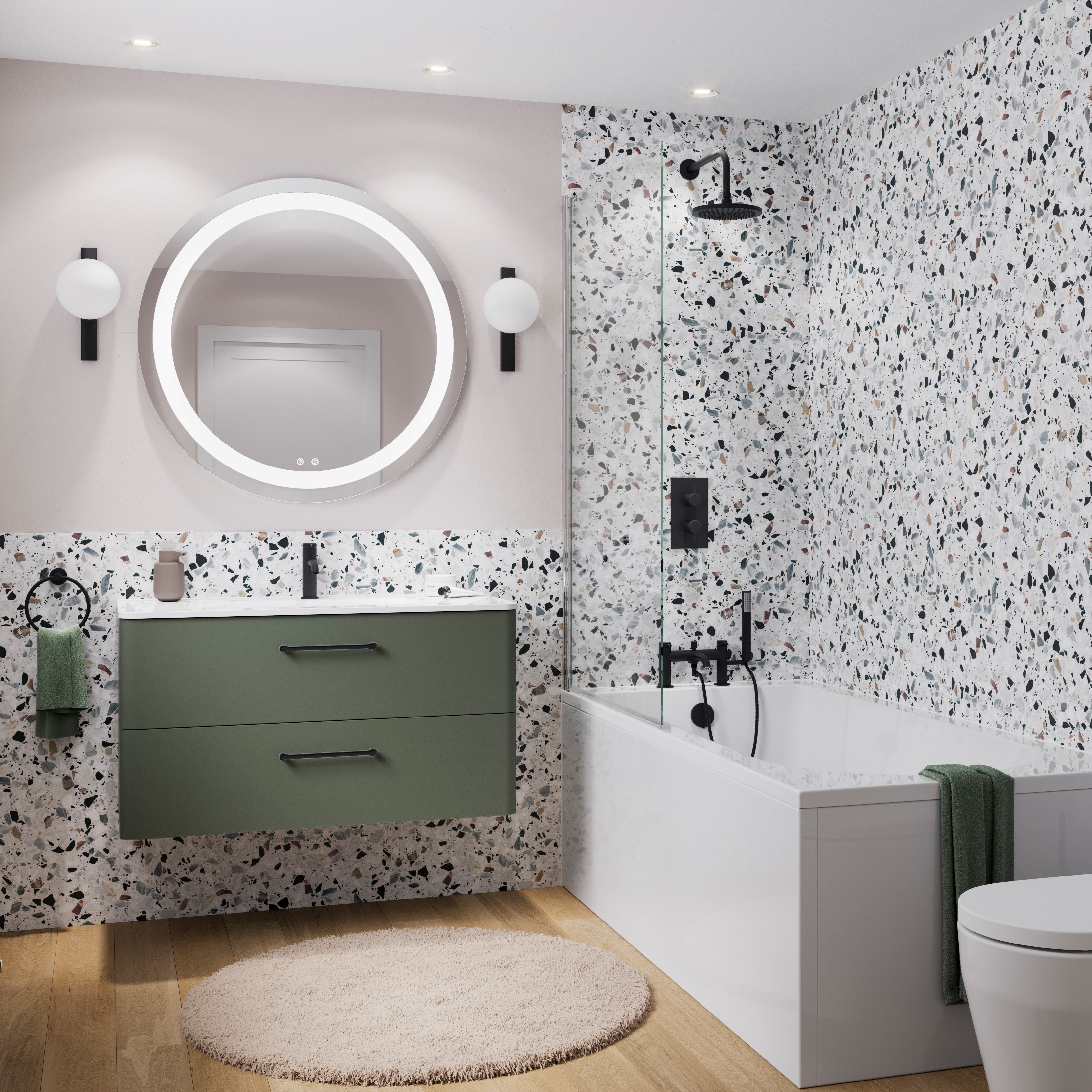 Green: Naturally Therapeutic 🌿

Continuing with the earthly theme, incorporating the colour green into your bathroom design brings the kick of dopamine we get from nature inside the home. Symbolising harmony, tranquillity and peace, green revives the mind by promoting growth, renewal and hopefulness. As with thriving forestry and stunning grassy plains, the colour green is therapeutic and relieves anxiety, rejuvenating our mind, body and soul.
Green in regarded the most restful and relaxing colour for the human eye. If you're someone who likes your 'you time' to embrace relaxation, healing, and positive energy, add a bit of green to your bathroom colour scheme.
Get the look: benefit from green hues in your bathroom design
Our Camberwell furniture in Earthy Green draws the eye and adds tranquillity to its setting. Best used as an accent colour, pair green furniture with neutral tones to create the ultimate stress-releasing, healing energy.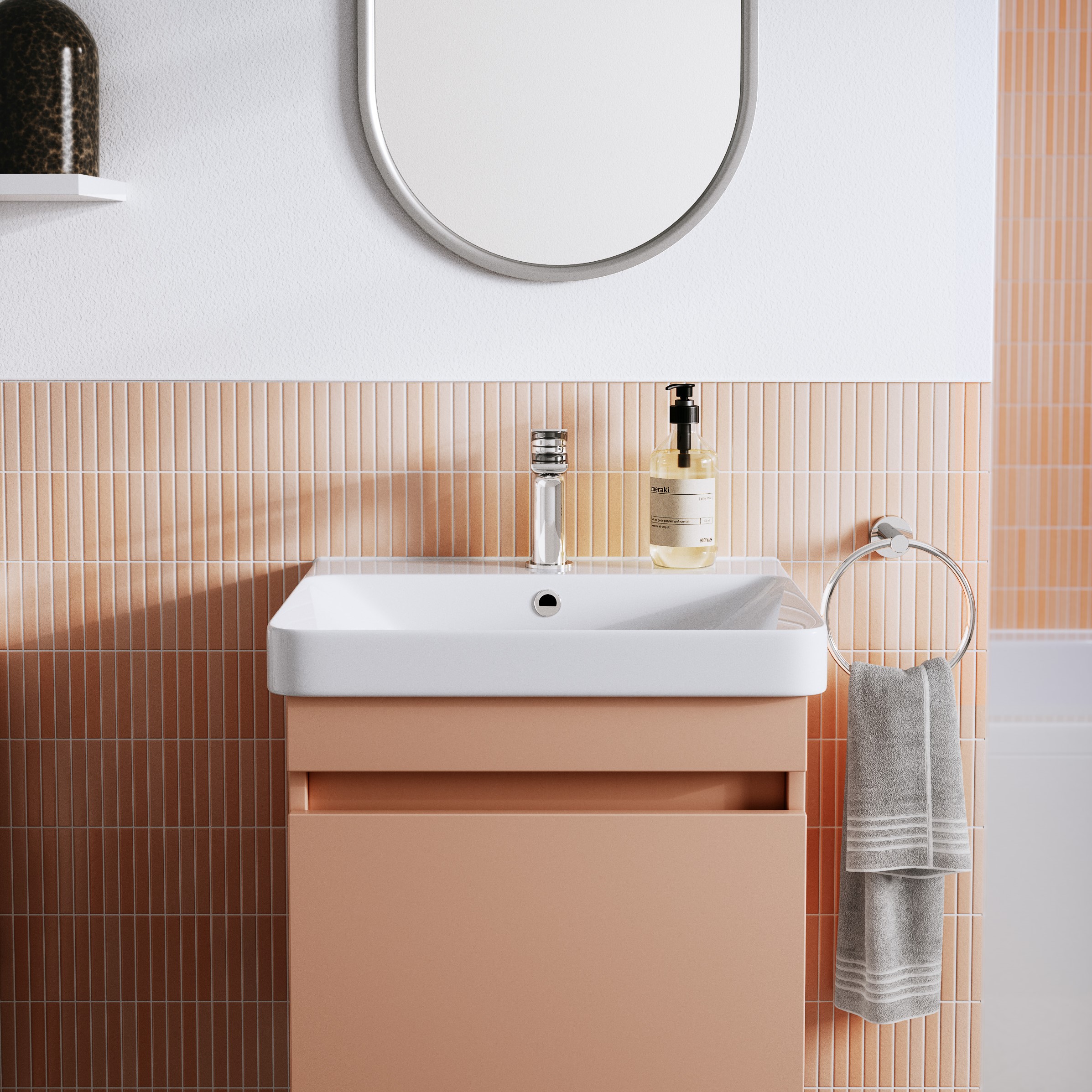 Salmon: Energise Your Mind 🧠

Your quiet time is sacred. It sets you up for the day ahead, restores your energy and stimulates your mind. If you're looking for an environment that gets you energised and stimulated, incorporate pink into your bathroom design to activate your mind.
Shades of pink, such as salmon, increase your heartbeat, encouraging action, confidence and excitement. While its intensity makes salmon a very eye-catching colour, it's best used in small doses to stop your environment becoming overwhelming.
Get the look: bring a pink colour scheme to boost your chi energy
Our Dalston furniture in Matt Pink allows you to bring in a subtle accent of the fun and invigorating nature of salmon. Coupled with bright, complimentary colours, turn your bathroom space into an inspiring and exciting environment to get you stimulated for any activity.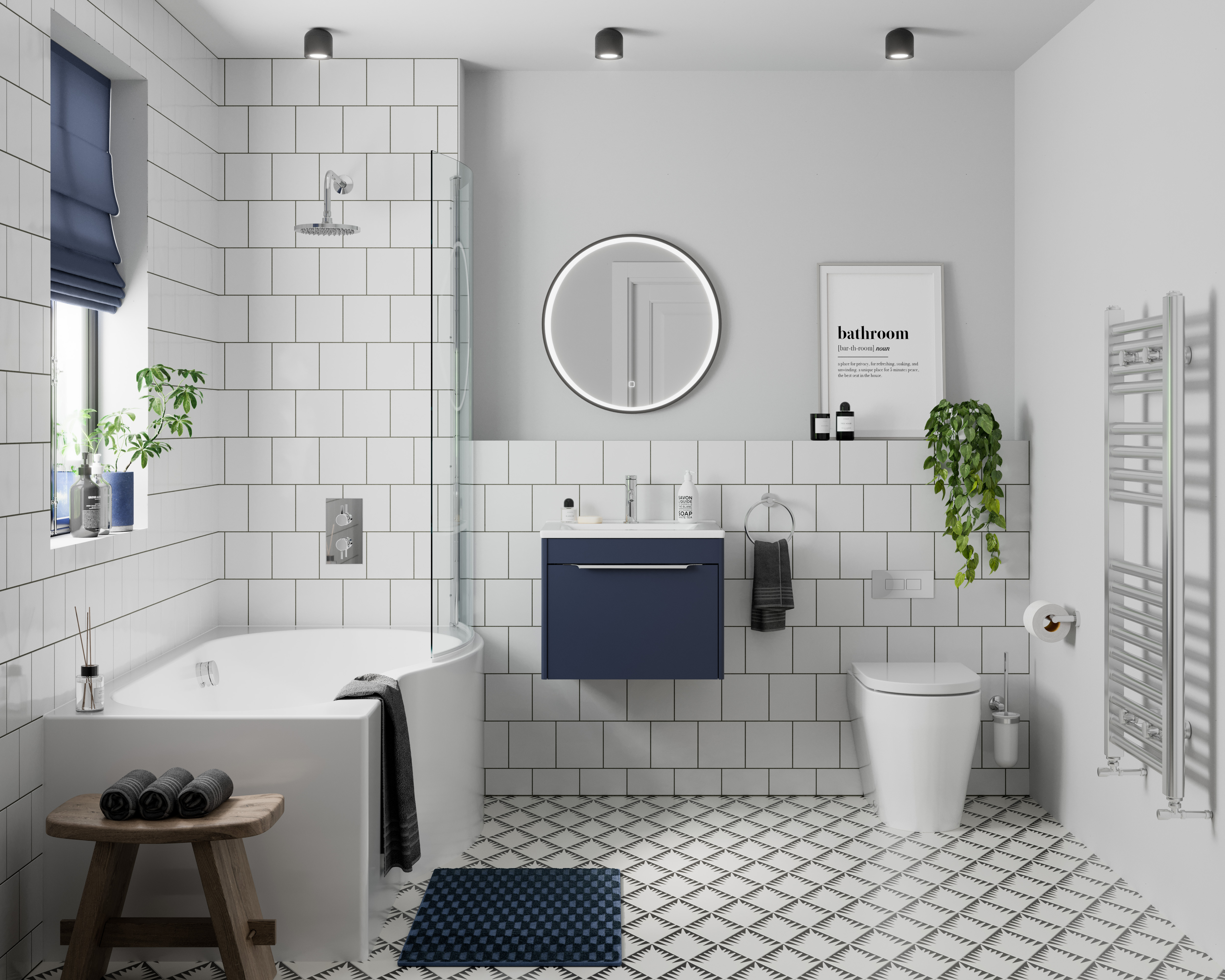 Deep Blue: Let the Creativity Flow 🎨

As seen before, the colour blue holds close association with the ocean and the sky, making it a spiritually soothing colour. Deeper shades of blue can add another layer of energy to your environment.
The serenity, orderliness and tranquillity that comes with the colour blue helps to lower blood pressure and relax the body. Darker shades of blue add stimulation for the mind by promoting problem solving, decision making and creativity. So, if you use your relaxing time to work through problems or think up your next big idea, this could be the modern colourful bathroom design for you.
Get the look: add pops of blue to bring out your inner thinker
Our Shoreditch furniture in Matt Blue brings stimulation for the mind and relaxation for the body and soul into any bathroom design. Whether used as an accent colour against a neutral backdrop, or part of a bold, lively design, this deep blue allows inspiration to flow.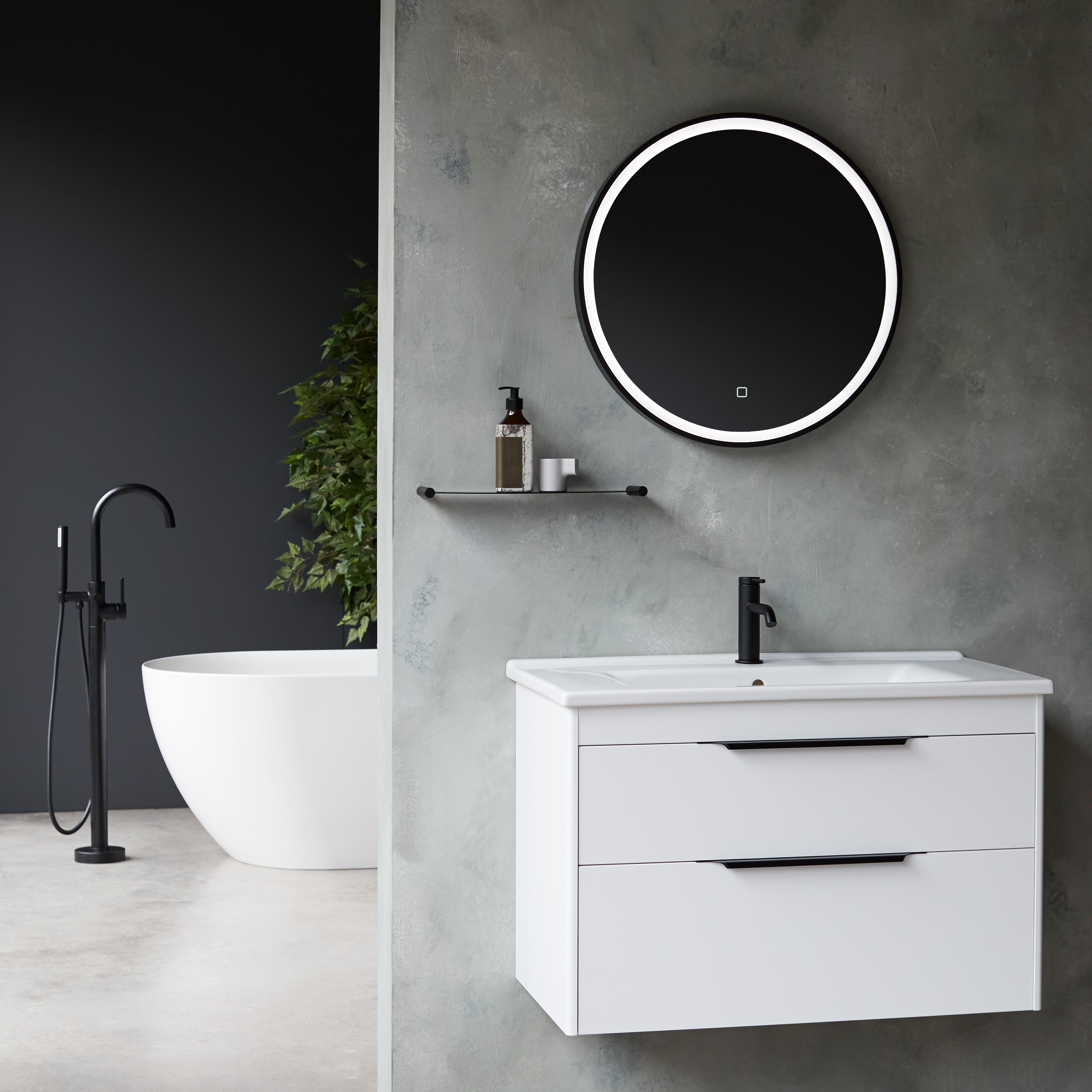 Black: Sophisticated Harmony 🖤

Believe it or not, black isn't as negative a colour as we might think. In Feng Shui, black can harmonise your home, evoking power, mystery and calm. It is associated with a sophisticated lifestyle, boosting our mood and confidence when present in our environment.
Black provides a protective and comforting energy to our surroundings. It is strong, contained and mysterious. With all its positive connotations, introducing black into your modern bathroom design produces a space where you can calm the body, enlighten the mind and give confidence to your soul.
Get the look: show confidence through a black accented bathroom design
Our Hoxton brassware in Matt Black provides a stunning accent to add sophistication to your bathroom design. Introducing this tone into your surrounding with complimenting hues creates a safe space with an aura of mystery and intrigue.