Choosing Ceramics for a Modern Contemporary Bathroom
To create a truly modern contemporary bathroom scheme, every aspect incorporated should be carefully considered to deliver a stylish design throughout. This includes features which may not be apparent at first, such as bathroom ceramics, often overlooked but nonetheless just as important as they can single-handedly transform a bathroom look. Establishing affordable bathroom luxury, Britton also creates on-trend bathroom ceramics to make the process of building a complete modern contemporary bathroom easier. As a result, we've shortlisted some of our favourite ceramic collections to inspire real home bathroom renovations.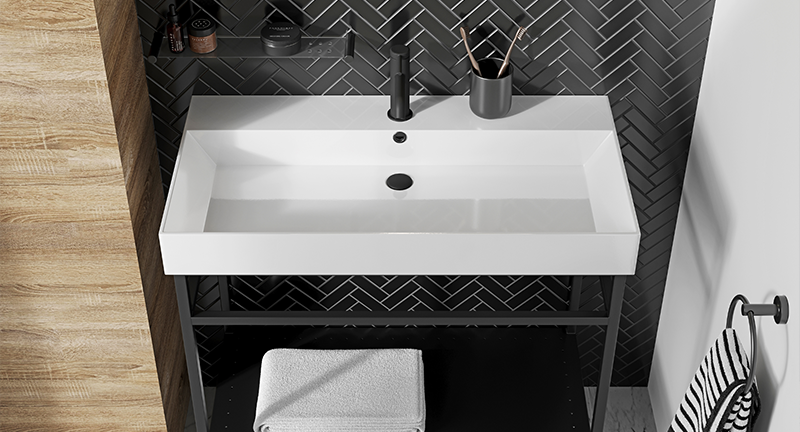 The On-Trend Basin
A statement in its own right, the Shoreditch Frame Basin delivers a bold presence in any modern contemporary bathroom thanks to its striking and assertive square design. The Shoreditch Frame modern sink design impressively combines style with durability to create a great option suitable for any bathroom purpose. For ultimate modern bathroom style, the Shoreditch Frame Basin with Furniture Stand delivers an on-trend look. Pairing the matt black Furniture Stand with Hoxton basin mixer provides a perfect contrast to the beautiful shine of the white Frame Basin for an altogether sleek appearance, that also offers practicality thanks to a convenient shelf to display your favourite succulent plant for an insta-worthy image of wellness.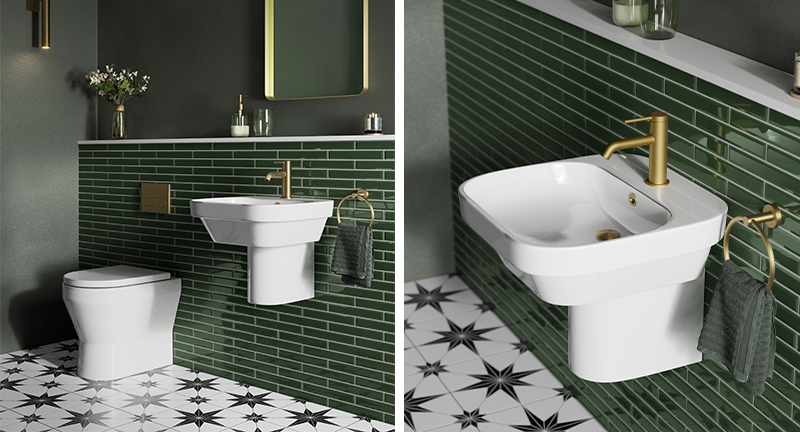 Curvaceous Ceramics to Uplift your Renovation
The vivacious signature curves of this ceramics collection allows the Curve2 name to be truly fitting. Boasting elegant thin rims and a compact design, the Curve2 Basin is available with Semi-Pedestal, Full Pedestal, or Semi-Recessed for maximised functionality in your space. For instance, pair the Curve2 Basin with a Full Pedestal to make a prominent design statement in a smaller bathroom, or, match the Curve2 Basin with Semi-Pedestal to maximise floor space. To achieve a more notable modern contemporary bathroom design, introduce the Curve2 Basin with its complementary counterpart, the Curve2 Rimless Back to Wall WC, where slim designs bring stylish practicality for modern compact bathroom designs and contemporary cloakroom suites.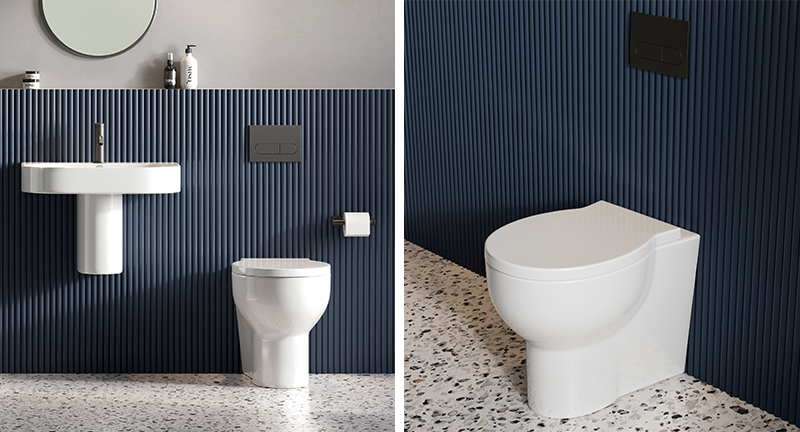 Contemporary Ceramics for a Dynamic Edge
If you're looking for a charmingly modern ceramic collection to suit a small space, then Trim is exactly what you've been searching for. The discreet design of the Trim Back-to-Wall WC with concealed cistern allows a stylish, minimalist appearance. Combined with Trim Basin with Semi-Pedestal maximises and revolutionises bathroom space for an overall compelling bathroom style at an affordable price point. For an alternative bathroom ceramics look, pair the Trim Basin with Full Pedestal or for further practicality, introduce a Trim Semi-Inset Basin with Furniture Unit to ingeniously combine style with increased storage space. Although one of our newest additions, the idea of a dynamic aesthetic suitable for modern compact bathroom designs and contemporary cloakrooms alike means the Trim collection quickly makes its way to one of our favourites for modern comtemporary bathroom design.
With so many options and sizes available there is no need to be limited by budget and space when creating a modern contemporary bathroom. For an unparalleled bathroom scheme like the images shown above, accessorise with our Hoxton brassware range to complete an awe-inspiring modern bathroom look. Discover more inspiration on our Instagram @BrittonBathrooms.

Related products