The Latest Bathroom Designs on a Budget
26 April 2021
Abi Hardiman
Everyone wants to create a stylish bathroom – but what's your preferred style? As the go-to place for relaxation after a long day, it's no wonder homeowners are putting more thought into perfecting the look and feel of their affordable modern bathroom. Read on to discover the latest bathroom designs and how you can easily achieve them on a budget!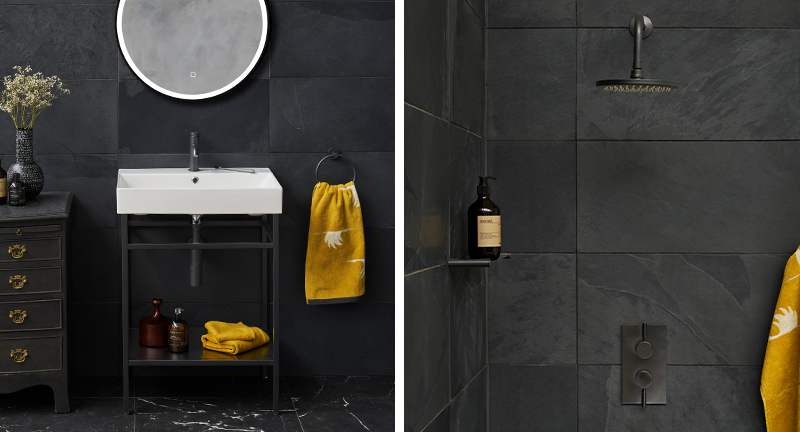 Luxury Bathrooms on a budget
Find yourself spending longer amounts of time in the bathroom than ever before? Like many other homeowners allocating more time to wellness practices, the bathroom has become the ideal space to complete these – which explains why luxury bathrooms on a budget has become the latest bathroom design trend.
Britton's luxury and affordable modern bathroom products make it easier than ever to capture the latest bathroom design in a way that suits you. If you're looking to bring soothing and indulgent tones into your bathroom, why not start with our statement Shoreditch Frame? A great addition to any room size thanks to a stylish design for the illusion of more space, you can effortlessly achieve a luxury bathroom on a budget. We'd recommend pairing the product with our Hoxton Matt Black brassware to co-ordinate the full room and complete your luxury scheme to get the latest bathroom design.

Be Inspired by Nature
Positively impacting mental health and well-being, why wouldn't you enhance the benefits of your bathroom by bringing the outside in? For a fresh and uplifting presence, introduce greenery into your space. Working particularly well when paired against a dark backdrop to make the colour pop, nature-inspired settings are great for relaxation. In keeping with this theme, introduce our wood-effect Caramel Shoreditch Wall Hung Furniture to combine positive décor with everyday practicality. Or, looking for something more minimalist? Pair rich, grassy hues with the Milan ceramics collection and a choice of indoor plants for a look that's ideal for compact spaces!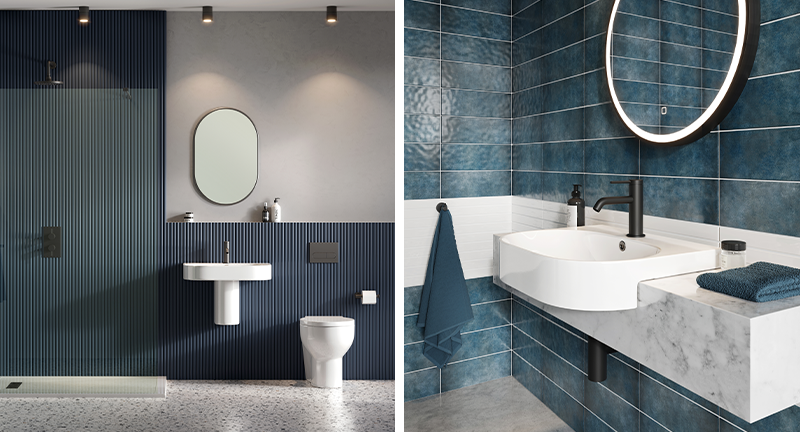 Spa Like Bathrooms on a budget
Searching for the ideal interior space to completely indulge? Striking the ideal balance of design and practicality for every day, spa-like bathrooms on a budget are a popular choice within the latest bathroom designs. Using whites, blues, and blacks to create an utterly tranquil setting, introduce the cleverly compact Trim basin – featured in semi pedestal or semi-inset – to maximise floor space and complement this relaxed look. Complete your domestic self-care retreat with a Hoxton LED mirror – perfect for all your cleansing rituals for a beautiful spa like bathroom on a budget.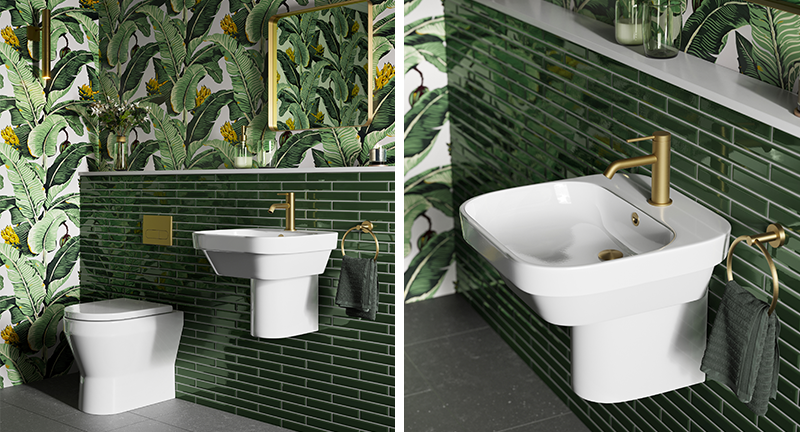 Experimenting with Colour
As many become more experimental with interior schemes, colour creativity is growing in the latest bathroom designs – including the use of pinks, greens and blues to name a few. Looking to uplift your bathroom? Create a sense of optimism with these colours which are perfect for encouraging positive self-care routines. Take inspiration from our stunning green bathroom, which uses splashes of colour with Hoxton Brushed Brass tap and Hoxton accessories to complete a vibrant space. For the ultimate latest bathroom design, pair this with our compact Curve2 ceramics to maximise space, whilst creating a scheme that revitalises and de-stresses.
For bathroom ideas on a budget and the latest bathroom designs, follow our Instagram: @BrittonBathrooms

Related products