How To Introduce Contemporary Black Brassware into Bathrooms
26 February 2020

A trend that's definitely here to stay, black taps, black showerheads and black accessories have become incredibly popular within bathroom design. Not only does black brassware add contrast to spaces, but it also delivers an edgy and contemporary feel that is certain to turn heads. Often perceived as a daring colour, it can feel daunting to introduce it into your interior, especially if it's the first time you have redecorated your bathroom. However, there are a number of easy ways to incorporate black, even in the subtlest of ways, so we have pulled together three contemporary bathroom ideas using black brassware that are sure to inspire you and give you the confidence to create the your ideal bathroom scheme.
Contrast Black with Colour in the Bathroom
Opting for black doesn't mean you can't have other shades in the bathroom, so don't be afraid to inject some pops of colour into your scheme. Adding bright hues will transform your space, especially when combined with a striking black tap or accessories. Whether you are refreshing your shower with brand new black brassware, or simply sprucing up your basin with a statement black basin mixer, a bold colourful backdrop is an ideal way to enhance these particular elements and make them stand out with eye-catching appeal. Our Hoxton Matt Black Accessories are perfect for this look. From toilet roll holders to shelving units, the Hoxton collection in Matt Black offers everything you need to create your dream bathroom. For the ultimate bathing space pair the designs with pink chevron tiles and additional contemporary finishes such as large circular mirrors and abstract accessories.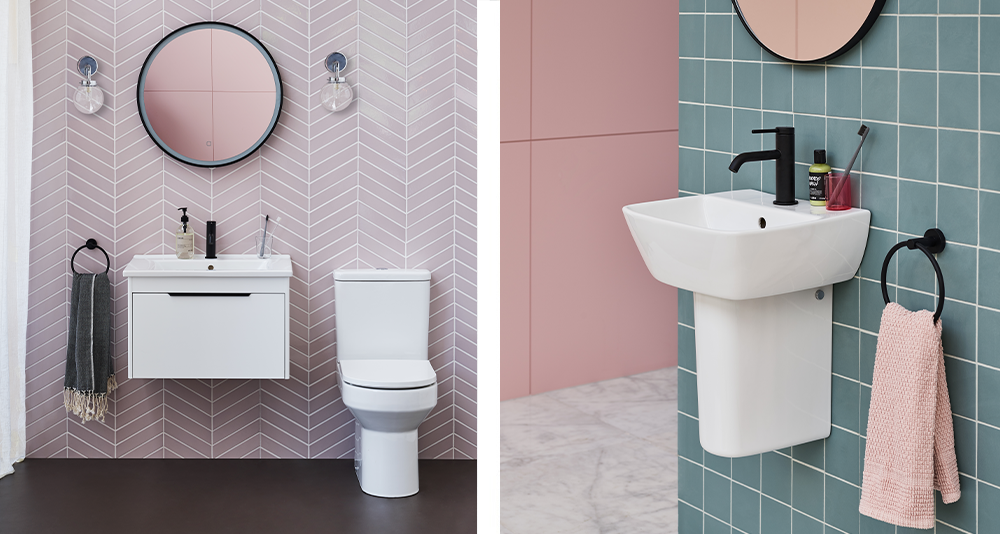 Combine Black with Neutral Furniture & Accessories
If you are leaning towards a more low-key setting, but are eager to incorporate bold elements that will make your furniture stand out, we strongly recommend opting for natural-effect surfaces and materials. Not only do they provide a relaxing feel to bathrooms, they also make rooms appear larger and more spacious. Neutral bathrooms are often more minimalistic in style and feature a mix of soft-toned colours and textured finishes that work beautifully with hints of black.
If you want to make your black brassware the main focal point within your bathroom, we recommend keeping your walls as light as possible. Softer shades will often enhance the bolder finishes, whilst delivering a more open aesthetic, and the key to achieving the ultimate minimalist look is to ensure that all your statement pieces stand out. Whether you're decorating a smaller or larger space, we recommend opting for black finishes against soft grey walls to create a super intense contrast, or keep it natural with wood cabinetry similar to our Shoreditch Caramel Furniture Units.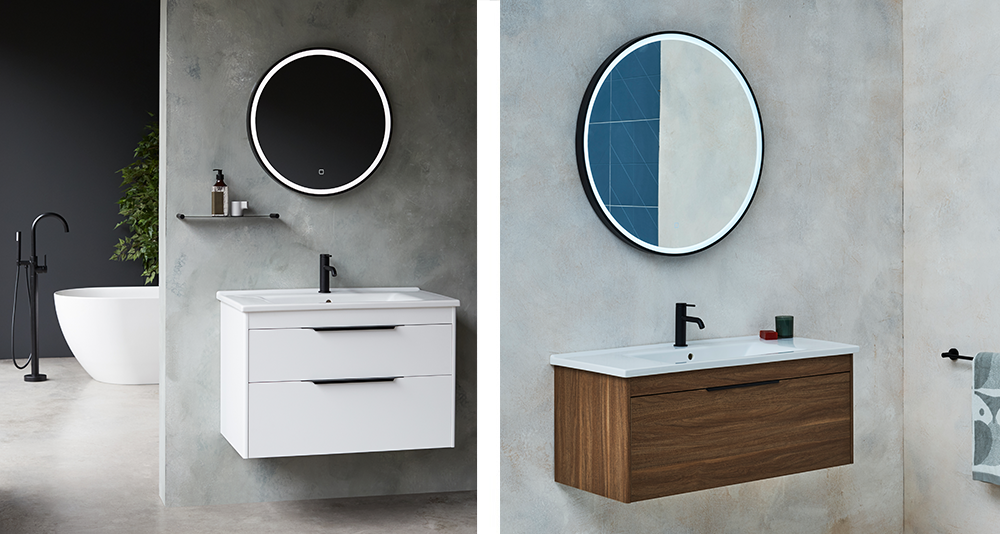 Opt for a Monochrome Palette in the Bathroom
Bold and eye-catching, there's no denying that monochrome is an enduring and popular interior design trend. A black and white scheme steps away from the norm, creating a look that is striking and clean. From ultra-modern bathrooms with state-of-the-art fixtures and fittings, to more chic styles that exude an art deco aesthetic, the monochrome look works beautifully for those with a more eccentric taste. Our Hoxton brassware adds a completely sophisticated finish to spaces. You don't have to go overboard, you can simply update your shelving units with a black finish or focus on one key area such as the shower to keep it understated. There are many methods you can use to achieve the monochrome look, even if it's in the most minimal way possible.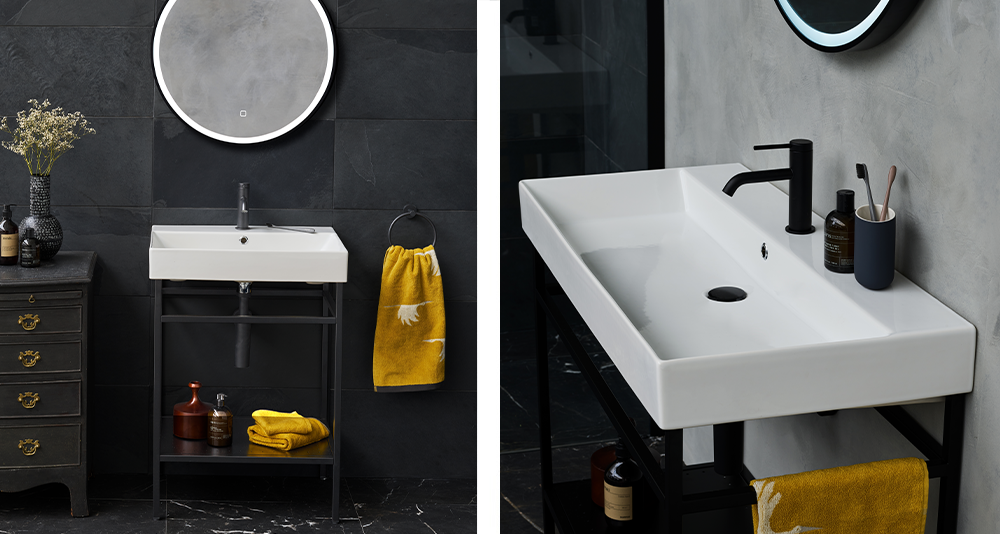 We hope our blog post has inspired you to bring black brassware and accessories into your bathroom. Subtle or bold, there are endless ways to incorporate this striking look into your décor.
Don't forget to let us know how you get on, tag or share your black brassware transformations with us on social media so we can see the final result!

Related products