How To Keep Your Bathroom on Trend Through 2020
Is your bathroom in need of a new look and you're searching for a little inspiration? Don't worry, as we have pulled together a selection of Insta-worthy bathroom trends that will see you through 2020 and beyond. From eye-catching and modern, to pared-back and indulgent, whatever your chosen style, there's a bathroom trend out there for you...
Use a statement dark colour
Black bathrooms are back! Stylish and sophisticated, this dark and dramatic colour works beautifully with anything and everything. Whether used in tiles across your walls or in the brassware to complement your furniture and ceramics, a black colour scheme will stay on trend for years to come. Our Hoxton Matt Black Brassware and Frame Furniture in Matt Black work effortlessly when paired with sleek marble surfaces and striking accessories.
If an all-black bathroom doesn't work for you, we recommend opting for a contrasting black and white scheme instead. Combining the two colours will result in a striking and enviable monochrome look.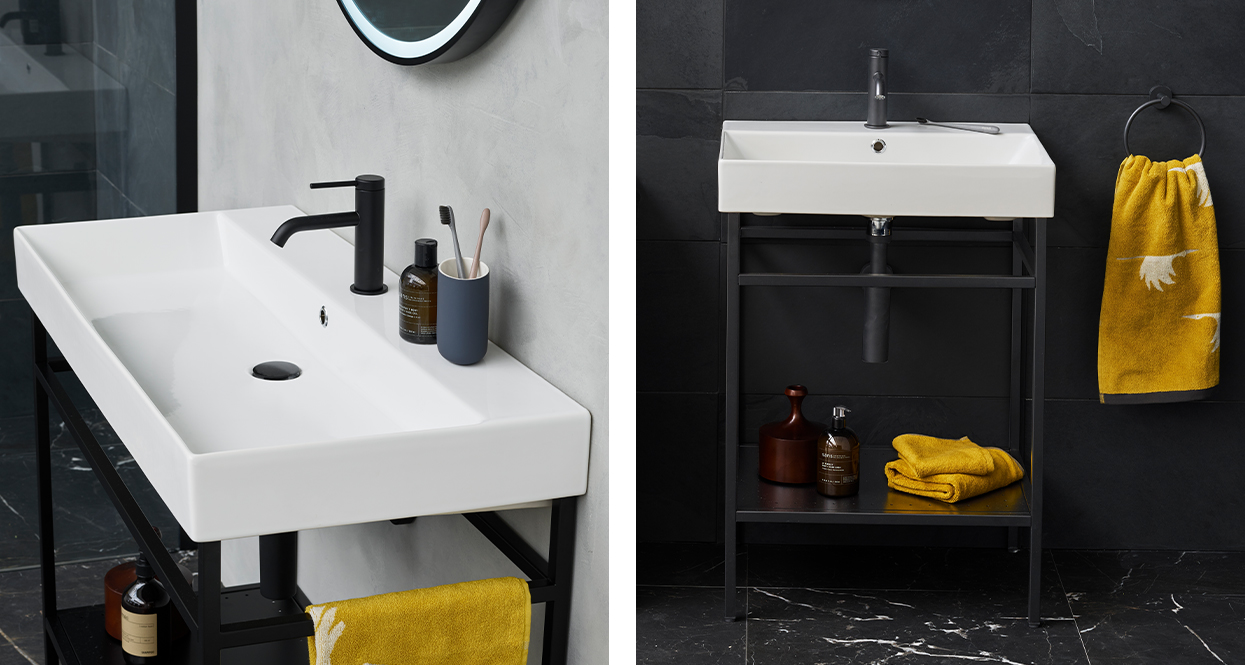 Get creative with pastel hues
If you're looking to add colour to your all-white bathroom scheme but are unsure of how to go about it, fear not! There are a whole host of bathroom colour trends that are certain to fit your individual style – from colourful bathroom tiles and surfaces, to a whole host of different brassware finishes.
Block colours are now a thing of the past, it's all about mixing and matching different colour palettes to create an interior that is unique to you. A bathroom colour trend that has caught our eye recently is the incorporation of pastel pink backdrops. These beautiful blush shades add a faded elegance and work especially well with our statement white Shoreditch furniture. You can also add contrast by adding in hints of brushed brass or matt black with your brassware to create a truly contemporary and vibrant scheme.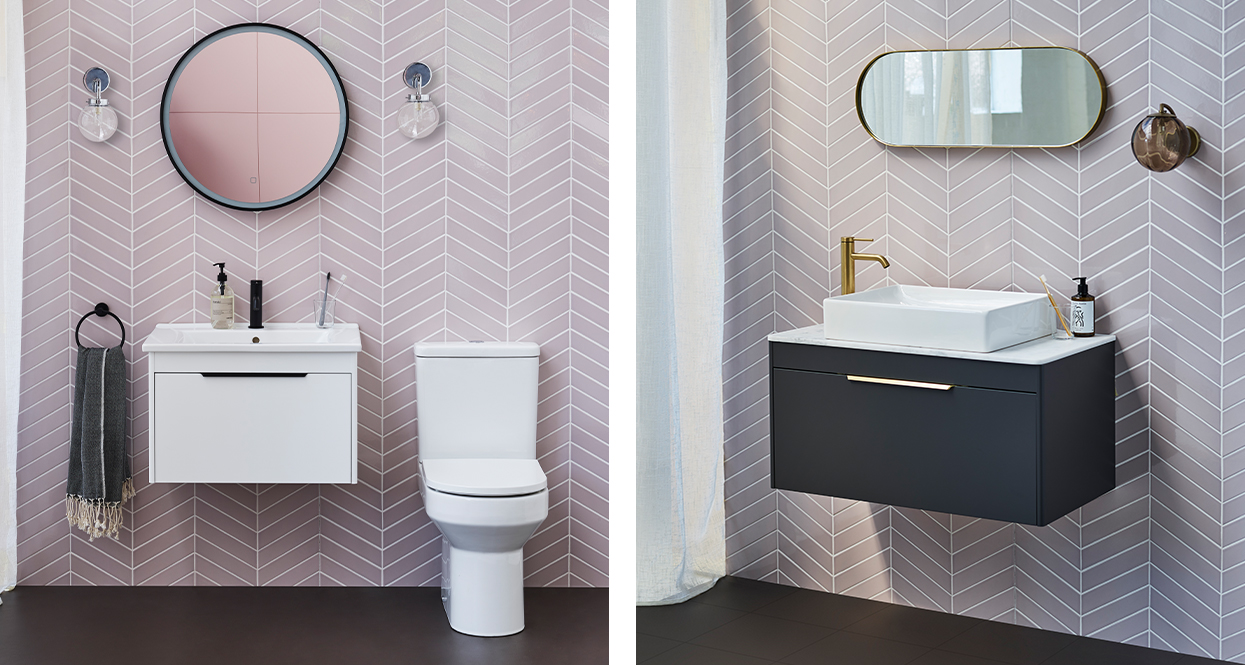 Minimalist Bathrooms
Pleasing and calming on the eye, minimalist bathrooms are a very popular and enduring bathroom trend. Ideal for small spaces, the minimalist look helps make bathrooms appear larger whilst adding a contemporary look to functional rooms. As the name suggests, less is always more when it comes to a minimalist design approach, and keeping colour schemes to a very neutral colour palette is the best way to go when looking to achieve this understated look. However, you can also add subtle hints of colour such as brushed brass and soft brown shades to give the overall look a striking finish.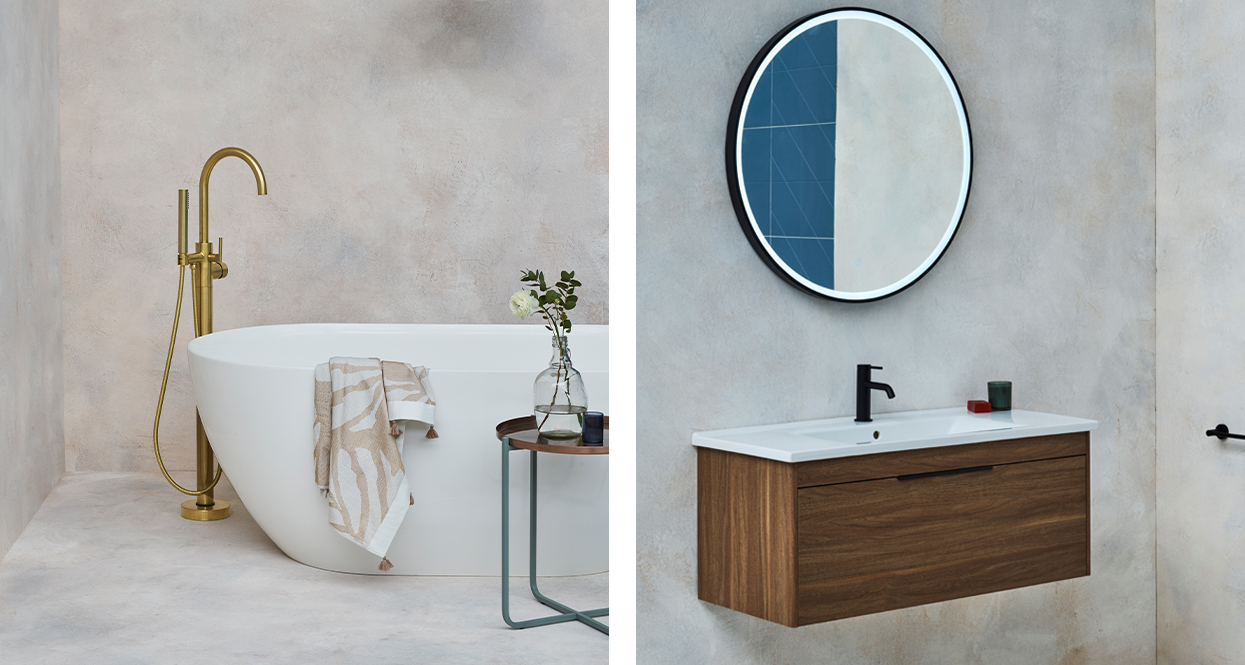 So, whether you're looking to incorporate vibrant pops of colour or dark and dramatic shades into your bathroom, we hope that our blog on the latest bathroom trends has inspired you to achieve that stylish look you have been searching far and wide for.
For even more bathroom inspiration, head over to our Instagram and Pinterest pages and let us know how you get on!

Related products