27 September 2021
Abi Hardiman
What's your Dream Bathroom Style?
From modern family bathroom designs to trendy contemporary cloakrooms, what's your dream bathroom design? With everything you need to create a luxury bathroom solution in your home, take a look at some of our favourite affordable bathroom designs and discover your dream bathroom scheme today.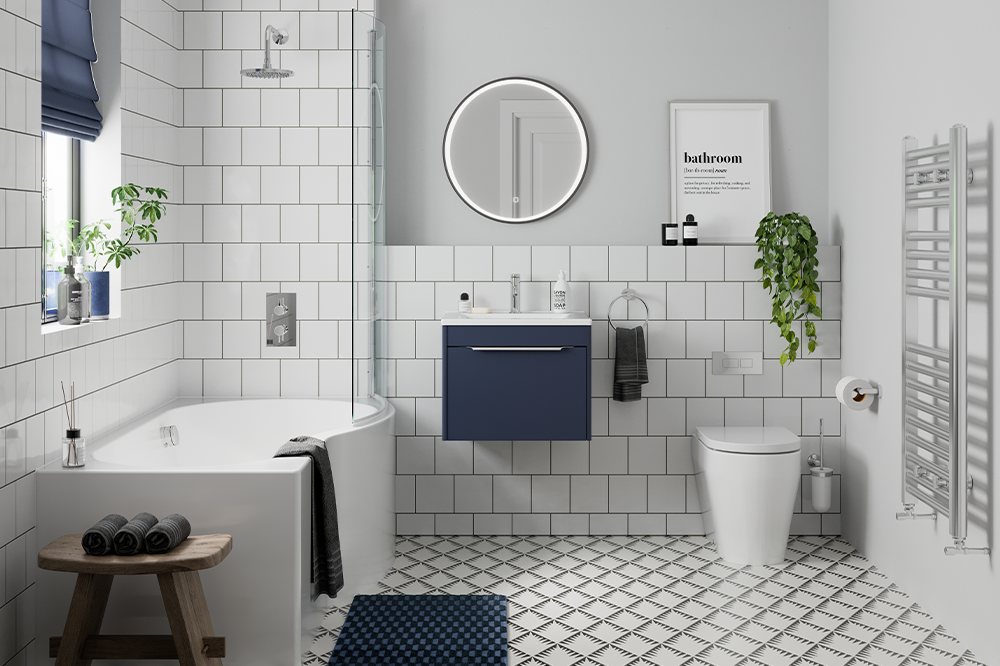 Our Favourite for Families
The wait is over - enter the perfect modern family bathroom design. An ultra-modern solution? Check. Stylish with ample storage space for the whole family? Check. Luxury design built for the every day? Check.
From the refreshing Shoreditch wall hung furniture unit in Matt Blue to intricate Chrome details with Hoxton brassware and accessories, this setting offers contemporary charm in abundance.
Topped off with the EcoRound Showering Bath for a seamless way to shower and bathe, this bright and simplistic dream bathroom scheme has it all!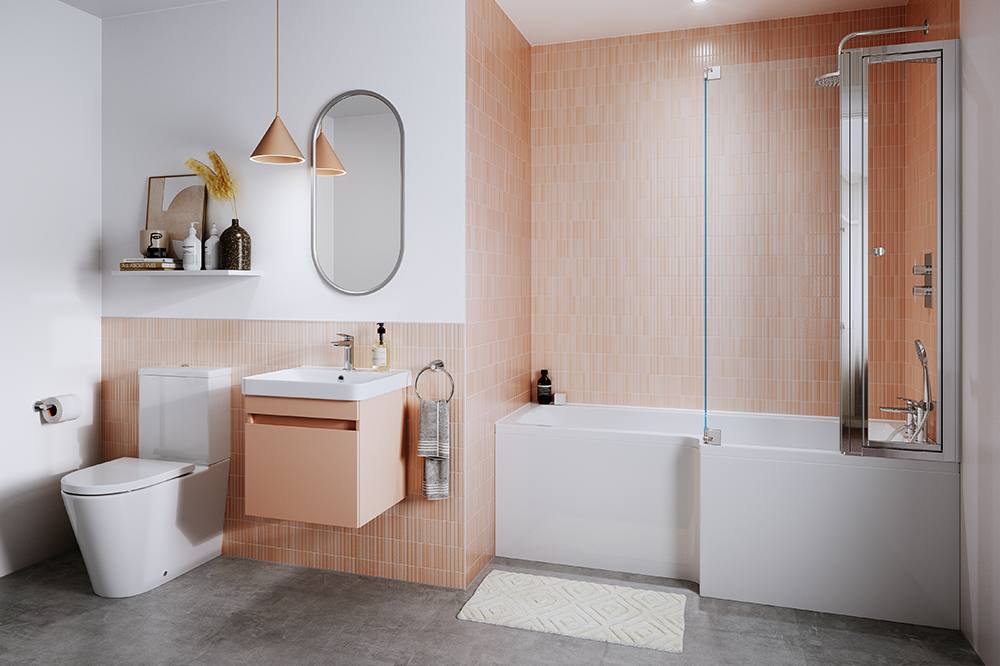 Our Favourite for Striking Design
Why fit in when you can stand out? Welcome adventurous design to the modern home with an intense pink colourway.
Ultra-contemporary and undeniably playful, the energetic Matt Pink of our Dalston furniture unit takes center stage in this on-trend setting. Paired with a pink and white backdrop to complement, this exuberant scheme is perfect for those looking for a dream bathroom that makes a statement.
Finished with the EcoSquare Showering Bath for maximised floor space, this setting balances flawless design with function for the ideal modern family bathroom design - it's good to be different!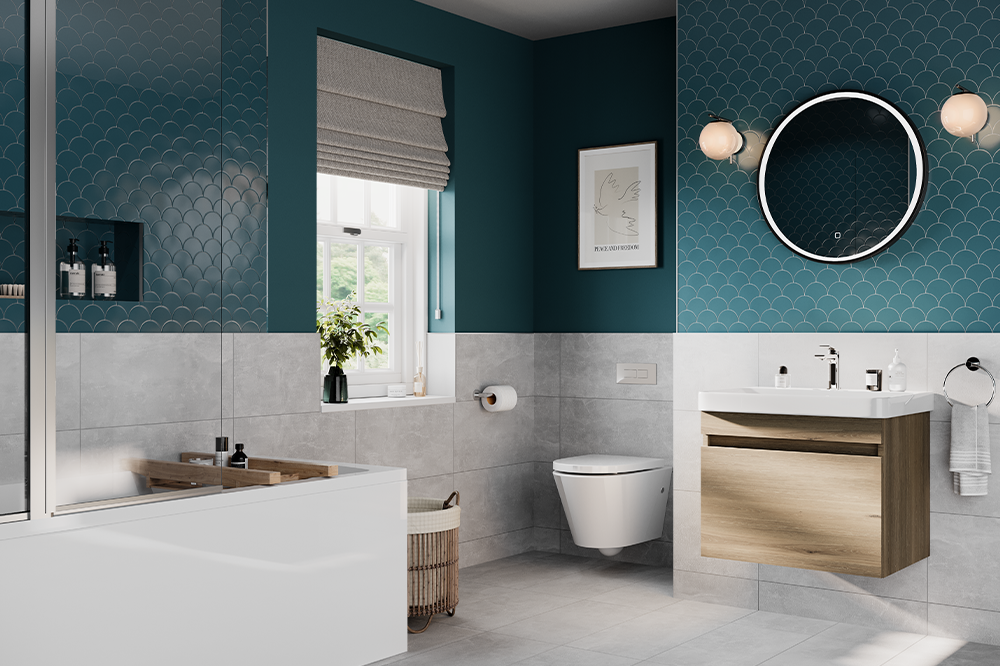 Our Favourite for Home Spas
From minutes to hours, this domestic retreat guarantees to relax even the busiest of bodies!
Clearly getting the spa-like memo with aqua hues, marble effect tiling and Dalston furniture unit in Golden Oak, this setting uses hints of nature to add a comforting feel to soothe the senses.
Bring in a Sphere Wall Hung WC to continue the theme of uninterrupted floor space for an illusion of a larger room to prompt wellness.
Finished with Greenwich basin mixer and Hoxton accessories in Chrome, isn't this dream bathroom perfect for everyday escapism?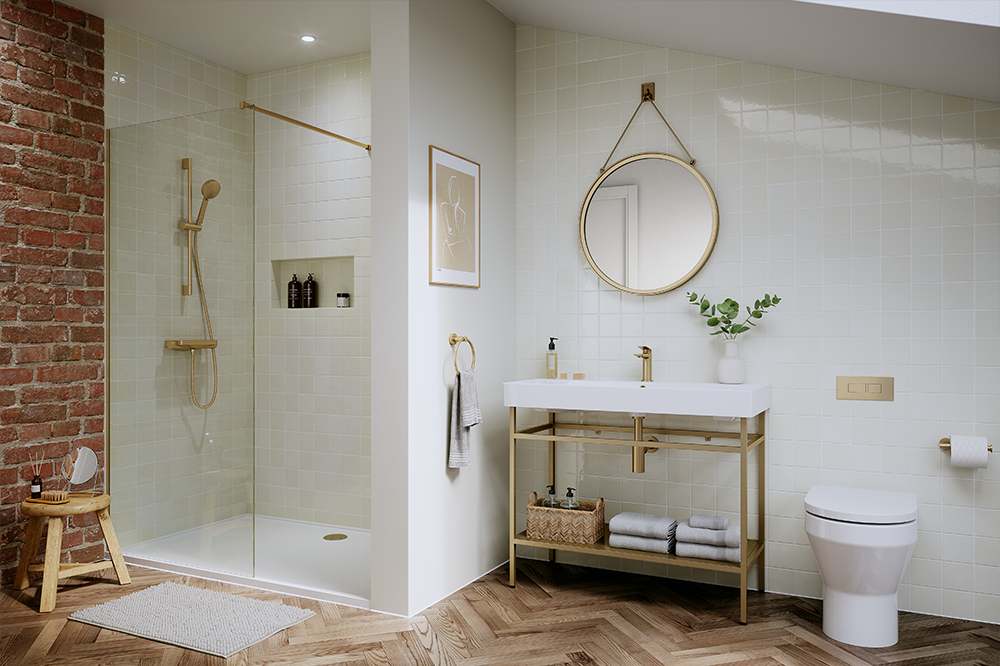 Our Favourite On-Trend Design
If classy and sophisticated are what you're after, we've got just the dream bathroom scheme for you with extravagant Brushed Brass accents!
Love a statement piece? Opt for the distinctive Shoreditch Frame unit in Brushed Brass, helping to bring glamour to even the smallest of bathrooms with an open design and storage shelf to make spaces appear larger than they actually are.
Want to reiterate the theme of luxury across your contemporary shower room? Introduce a Greenwich basin mixer, Hoxton Shower Set and Hoxton accessories and voila! A dream bathroom scheme with beautiful Brushed Brass.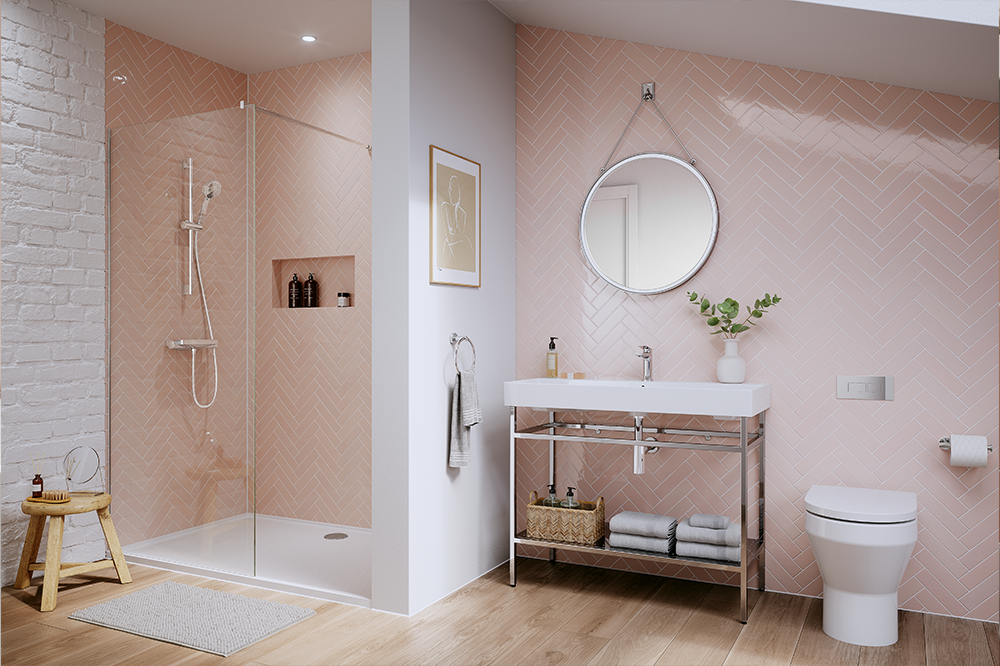 Our Favourite for Understated Elegance
Delightfully modern and effortlessly charming, isn't this just the dream bathroom?
A contemporary shower room embellished with Chrome accents, how could this scheme ever go unnoticed? Want a stunning focal point? Introduce the Shoreditch Frame in Polished Stainless Steel for a captivating visual.
Searching for complete cohesiveness? Pair with Chrome touches such as the Hoxton Shower Set and Greenwich basin mixer for a style enriched with contemporary charm.
Set against an invigorating herringbone tile backdrop in blush pink, could this modern family bathroom design be any more perfect?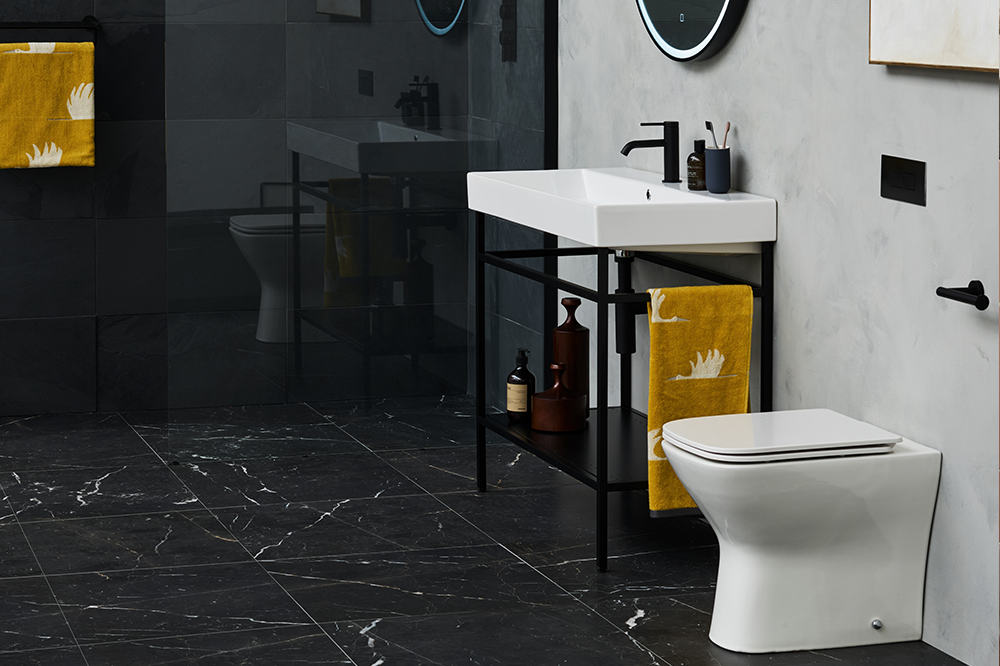 Our Favourite for Dark Design
Welcome a bathroom to nourish the soul.
Pairing black marble effect tiles with our Shoreditch Frame unit in Matt Black, we just love how this space showcases dark colours to soothe the senses.
Distinguishing the shower from the bathroom with a divide of light and dark, this room gives an illusion of more space for a contemporary shower room idea perfect for smaller bathrooms.
Tied together with Hoxton brassware and accessories in Matt Black for a continuation of luxury, isn't this relaxing dream bathroom design the most beautiful wellness space?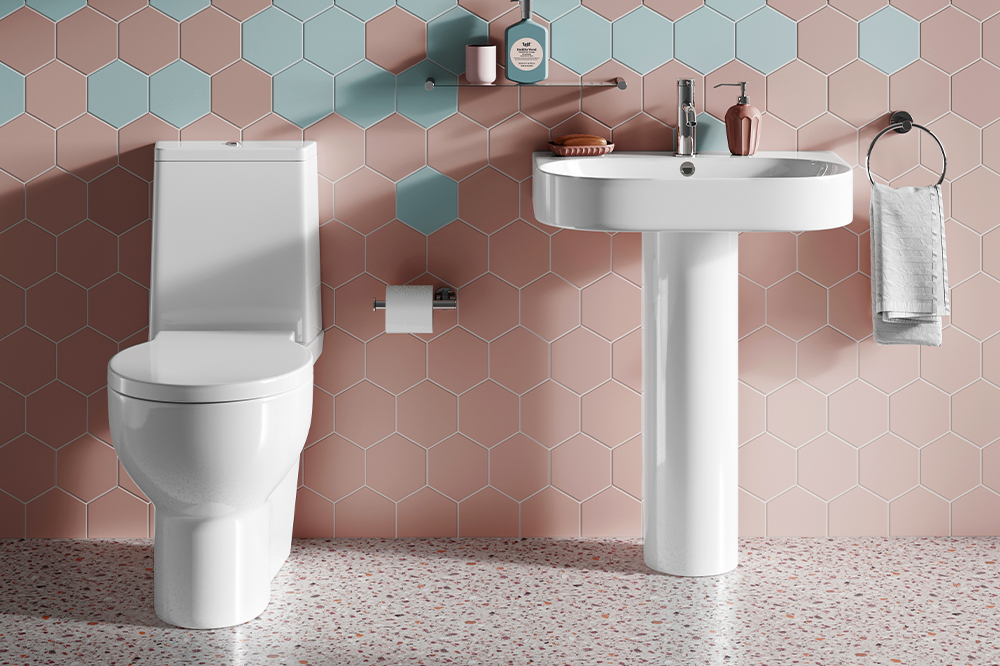 Our Favourite for Wow Factor
Bright and bold? Understated and subtle? Whatever your style, there's no denying that this contemporary cloakroom is certainly dressed to impress!
Defined by dynamic shape, this scheme features the Trim close coupled WC and Trim basin with full pedestal for a stylish ceramic duo that's sleek, space-saving and pleasing on the eye.
An intense focal point? Pair the Trim ceramics with a Hoxton LED Mirror for statement design. Add a captivating backdrop, like these hexagonal tiles and there you have it - a dream bathroom scheme perfect for cloakrooms and modern family bathroom designs alike.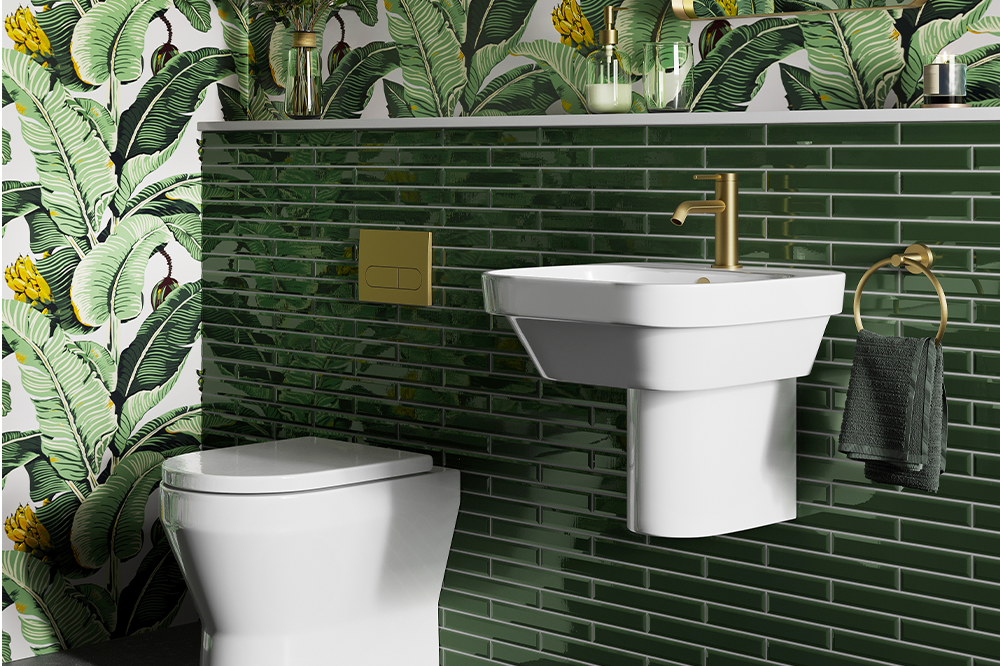 Our Favourite for Nature-Inspired
It's no secret nature is known for its comforting properties and calming visuals, so why not feel the effects of nature in your dream bathroom?
Want inspiration? Explore a jungle theme like this contemporary cloakroom using leafy print wallpaper and glorious green tiling for the perfect modern family bathroom design.
With touches of Brushed Brass, including Hoxton basin mixer Hoxton accessories, the scheme captures an earthy colour palette whilst adding undeniable glamour.
Want to go bold? Check out the ultra-stylish Curve2 rimless back-to-wall WC and Curve2 basin with semi-pedestal for a setting that maximises comfort and contentment.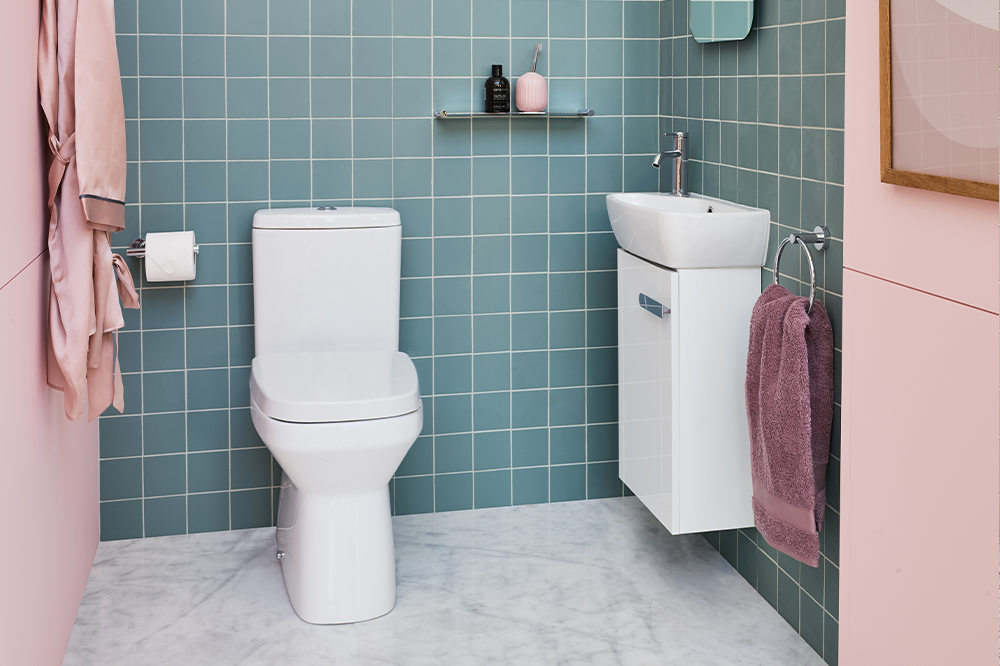 Our Favourite for Contemporary Cloakrooms
Compact and stylish? Check out the MyHome cloakroom basin. Extra storage space? Opt for a MyHome cloakroom basin with wall-hung unit.
A matching toilet for style and comfort? Bring in the MyHome close-coupled back-to-wall WC.
Effortless luxury? Embellish with Hoxton basin mixer and Hoxton accessories in Chrome for a beautiful design throughout.
A complete on-trend look? Go bold with bright, contemporary bathroom colours.
And there you go! An effortless contemporary cloakroom solution to bring indulgence to any home.