Bold & Colourful Bathroom Ideas
19 May 2020

From walls and floors to furniture and accessories, there are various approaches to incorporating colour into the bathroom. Whether you're thinking about simply adding a splash of colour through small details or taking the bold leap with a more daring overall scheme, there are so many ways that colour can bring your bathroom to life.
Here at Britton, we make it our priority to provide the perfect product to complete your bathroom scheme. Whether it's through brassware, furniture or ceramics, our collection is both vast and versatile and will work with any manner of colourful, statement bathroom scheme.
To help you on your way and provide you with some initial inspiration, we've put together a selection of bold and colourful bathroom ideas.
Retro-inspired Bathroom Style
Recently, there has been an increased interest and move towards contemporary interiors with a vintage twist. The modern Art Deco look is one of our favourite ways to captivate this interior theme, characterised by retro colours, geometric shapes and eye-catching patterns, this 1920s approach is a wonderful way to incorporate some colour into the bathroom! To achieve this look, consider combining indulgent blues, brushed brass tones and marble accents; the end result is a look that is both cheerful and sophisticated.
Our Shoreditch furniture, available in four different colourways and a choice of a Carrara Marble, Concrete Haze, White or Ice Blue worktop, is ideal for those looking to create a modern bathroom with a hint of characterful style. Paired with our Hoxton brassware and accessories in a brushed brass finish, you will be well on your way to achieving the nostalgic yet colourful bathroom of your dreams.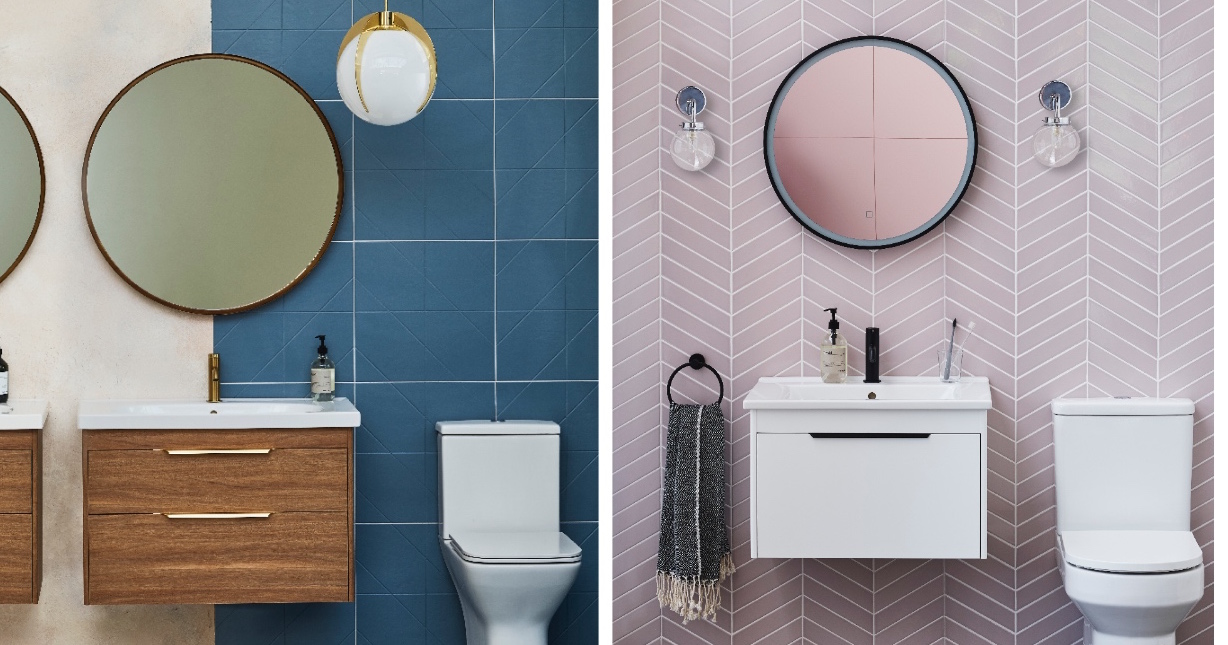 Blues & Greens in the Bathroom
Greens and blues are perfect for creating a colourful and calming oasis in the bathroom. Blue in particular is soothing and evokes a sense of relaxation. Whether you combine different light and mid tones or use a darker navy for a bold statement, you're certain to make a stylish statement with blue! Our Shoreditch Furniture unit in Matt Blue works beautifully when paired with vibrant tiling, crisp white ceramics and Hoxton's Chrome brassware. The finished look is a bold bathroom scheme that oozes style and confidence.
Green can also act as the ideal pop of colour in the bathroom. The beauty of this viridescent shade lies in the wide variety of hues and tones that it comes in. It is also a naturally lively colour that complements ceramics with maximum impact. You can vary the shade of green to shift from a quiet, understated look to a daring, audacious style with no hassle. Opt for deep green backdrops that will accentuate your furniture and accessories or bring the colour in subtly with sprigs of foliage and nature-inspired accents to create a timeless look that will never go out of style.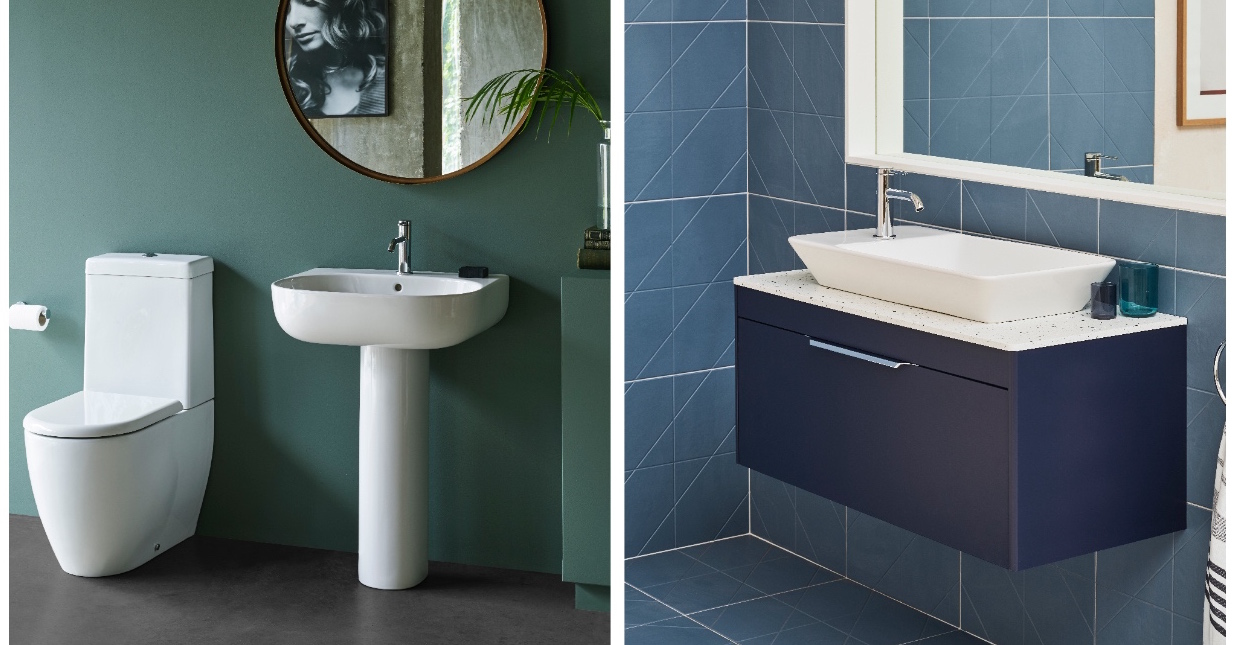 Pastel Palettes
Make your bathroom a place of fun by bringing in some pastel colours that pop! Whether you are decorating the family bathroom or the downstairs cloakroom, there is so much inspiration out there for pastel bathroom design, especially across Pinterest and Instagram. Having experienced a resurgence in popularity over the past few years, pastels have made their way into our interiors and people are now becoming more comfortable with the idea of bringing them into the bathroom. Plush pink pastel tiles are a popular choice, working particularly well as a backdrop to white ceramics or furniture. This look can be achieved by combining our White Shoreditch furniture and Matt Black brassware from our Hoxton range with herringbone tiling in soft toned shades for a seamless two-tone aesthetic.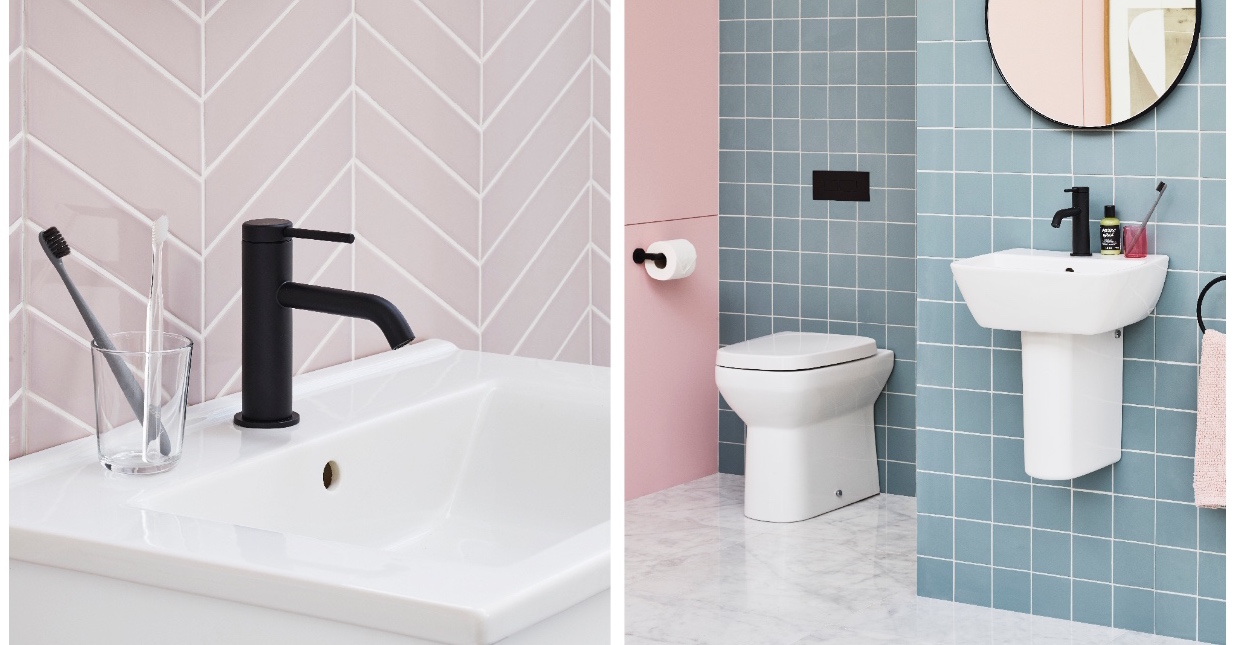 ​
We hope we've helped you on your way to creating your dream colourful bathroom! Don't forget to head over to our Instagram for more inspiration and tag Britton in any bathroom transformations so we can see the final result!

Related products